Swiftwater Technician Course
June 3-6 (FULL 4-DAY CLASS)
Join us for this immersive experience in the beautiful north woods of Wisconsin!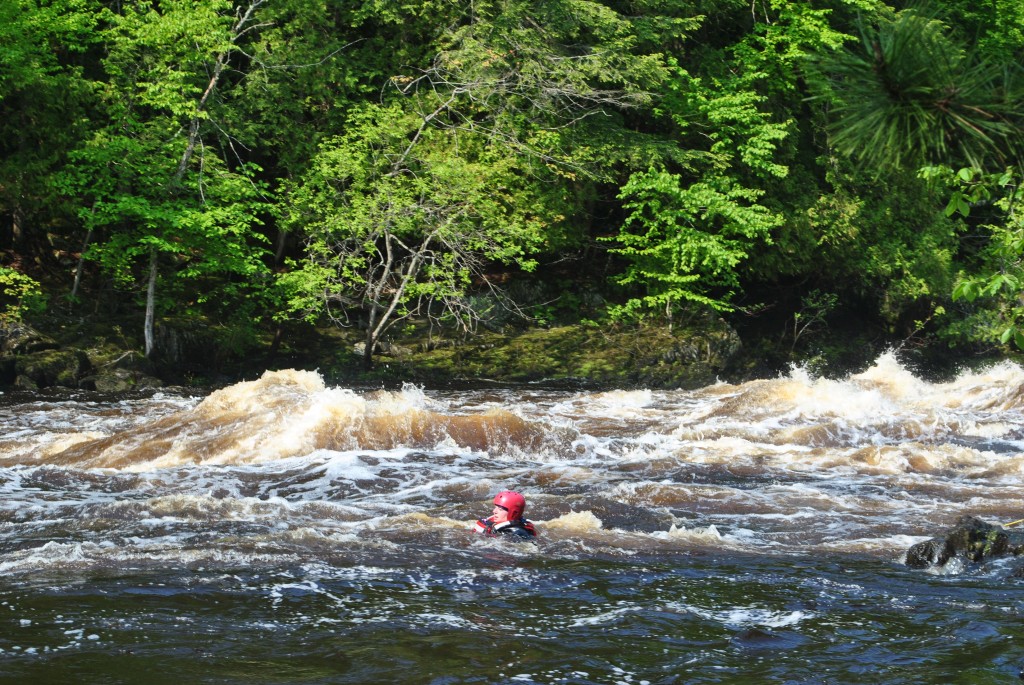 THE BREAKDOWN:
Awareness/Operations Level Rescue – First Two Days
The first two days of the June course fulfills operations level requirements for swift water rescue.  Our main focus will be on shore-based and tethered boat rescues.  Students will familiarize themselves with the river and learn self-rescue techniques and defensive swimming.
Day One: The day is spent in the classroom covering:
Essential knots and rigging, including basic highlines
How to read the river and assess hazards
Patient handling techniques

Water Rescue Incident Management
Throw bag techniques including vectoring lines
Up-stream spotters and down-stream safety back-ups
Use of floating hose lines
Whistle commands and hand signals for communications
Day Two: The day is spent on the river for hands-on training:
Defensive and offensive survival swimming techniques
Wading drills & Low Water Crossing
Throw bag rescues
Utilizing the power of the current
Methods to avoid and confront "strainers". (The number one killer of victims and rescuers who end up being swept down-stream)
Tethered boat rescues
Highline boat rescues & rigging systems
Our 16 hour class is NFPA compliant.
Lunch is provided on-site each day.
Lodging is available in either Iron Mountain, MI. or Norway MI.

Cost: $350.00/person
Technician Level Swiftwater Rescue – Second Two Days
This physically demanding two-day class builds on the skills learned in the operations level class.
Completion of a 1000′ endurance swim is required. (Swim will be completed on the evening before class, unless previously arranged with Pioneer Rescue)
Each morning starts with offensive and defensive swims
Throw bag drills
Diagonal high-lines
Ropes rigging
Snow fence drills, for single and multiple victims
Tethered rescue swimmer "GO" rescues
Zip-line patient transfers
A practical skills test completes the 16 hour class at the end of the second day.
Students are required to supply their own PPE. (see below for a gear list)
Pre-requisite: NFPA Operations level certification
Lunch is provided on-site each day.
Lodging is available in either Iron Mountain, MI. or Norway MI.
Cost: $400.00/person

Each student is required to bring along the following list of PPE:
Technical Rescue style helmet. No bunker helmets allowed.
Vest-style Personal Flotation Device with crotch straps.  We recommend a swift water vest with chest panel and pockets
Shoes or boots with soles and ankle protection
Whistle
Throw bag with floating water rescue rope. 50′-70′
Wet suit or dry suit is (required for the technician level class.)
Trauma shears or swift water knife (optional)
Cost Per Student (for all four days): $750.00

All required equipment is available for purchase prior to the class.